ACER V17 Nitro Core i7 Black Edition 17-inch Laptop Review
Oct 12, 2016
So after selling your laptop you're back in the market looking for another gaming device. You want something easy and ready to pack up and take with you if need be. Certainly there are many, many options out there in today's market, but let's take a few minutes today and focus on the ACER V17 Nitro Black Edition.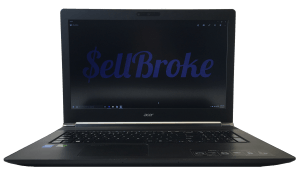 Specs:
ACER is packing this laptop with an Intel Core i7-4720HQ processor. A Benchmark test revealed a CPU score of 8828, so it's right there at the top of performance levels. It's a Quad Core with 2.6GHz but it has boosting ability to 3.6GHz. This means that it can dynamically increase or decrease depending on what you're doing.
It also has 16GB of DDR3 RAM, so multi-tasking won't be a problem, plus 16GB of RAM is plenty for most users. Its graphics card is a NVIDIA GeForce GTX 860M. This is a middle to upper-middle level card which means that high-demand games can easily run on medium settings and you can expect about 50-75 fps. But when it comes to low-demanding games you can without a doubt rock high settings and have a great gaming result.
Design and Build:
This Black Edition is just that. It's a sleek looking machine with a monochromatic black-on-black design. At the rear of the machine there is a silver rear piece that makes this design pop. The Acer logo on the top lid is silver as well and highly noticeable. There is minimal lid flex, not much to speak of on the keyboard flex either.
This laptop weighs in at 6.6 pounds, and though this seems a bit heavy in comparison to other laptops of this size, when you factor in that it's a gaming machine then the wiring isn't as bad as it may first seem. There are a lot of things to pack into gaming devices. At its thickest point it's only measures at 1 inch.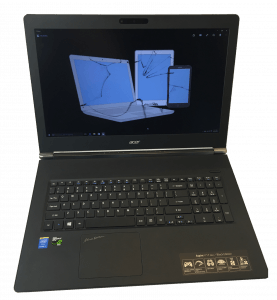 Performance:
Not only does this laptop have a spacious 1TB 5400 rpm hard drive, it also has a 256GB Solid State Drive (SSD). So this means you have a huge 1TB storage area for all of your files, media, music and games, but you also get the performance of a SSD. This is turn gives you very quick boot-up times of under 15 seconds, and a very fast OS performance. Since it doesn't have the spinning disc like a traditional hard drive, it gives you very fast performance all around.
Display:
Acer went along and built this laptop with a 17.3"Acer went along and built this laptop with a 17.3" IPS display. Today a lot of people look for an IPS display for their color accuracy and the wide viewing angles that it allows. It has 1080p max resolution with that high pixel density. Your gaming will end up looking much sharper and crisper to enhance that gaming experience.
Keyboard and Trackpad:
The keyboard is nice and firm with little to no flex expect in the back area where there isn't that much finger traffic. But even then, it's not really worth mentioning since it's so minute. It has a full-size keyboard laid in a black-on-black color scheme and looks nicely refined. Also for those that need to crunch those numbers still, there is a 10-key number pad tucked nicely tucked in there as well. The key travel is ok and their responsiveness is a bit mushy. But that's more than likely due to the short key travel of only 1.2mm.
Also, when using in low-light or dark places you won't need to fret, it comes with a backlit keyboard like many modern laptops.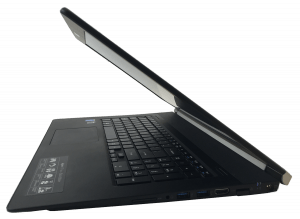 The trackpad isn't as large as other laptops' but it is smooth and accurate. There was no choppiness or jumping around of the cursor as we scrolled through various webpages. Like most trackpads on the market today it is a buttonless pad with both the right and left click located on the bottom of the trackpad. Over all, Acer did a nice job when designing the keyboard and trackpad.
Connectivity:
Many people still have older load up discs, software and games on CDs, as well as, other media storage and files. With this Acer you still get the option to use those since it is equipped with a traditional DVD RW +/- Drive.
On the left side you will find the Kensington Security Lock Slot, 2 USB 2.0 ports and the DVD drive. Turning around to the right side we have two more USB ports, these are 3.0 USBs. This is where you will also find the charging port, LED indicator status lights, an Ethernet connection, a full-size HDMI port, the headphone microphone combo jack and a SD card reader. Along the rear you have the exhaust fan vents.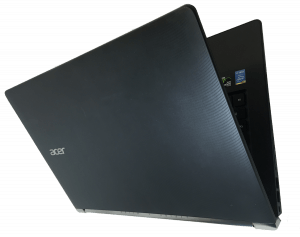 Audio:
The two bottom-facing speakers definitely produce a lot of sound; they are loud. They have Dolby Audio software in them to enhance the range of sound emanated. Though they are loud, they don't have the best full range of sound available, but they certainly get the job done.
Battery:
This is where Acer seems to have cut production costs. It has a very short battery life of only 4 hours and 15 minutes during light duty to medium workloads of web browsing, media streaming and word processing.
If you're gaming you're definitely going to want to be plugged into an outlet, as it drains really quickly under the workload.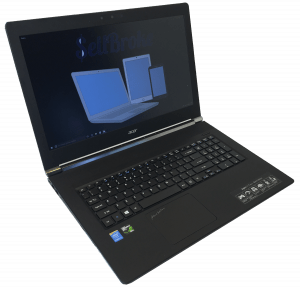 Sell Broke will let you sell your laptop without any hassle. Just find your laptop model on our site and sell it in a few clicks.