Today we're back with another computer review of a budget notebook. It's the Acer Aspire E5-575-54SM. This laptop has some pretty impressive specs for the price. Let's go ahead and break down the specs.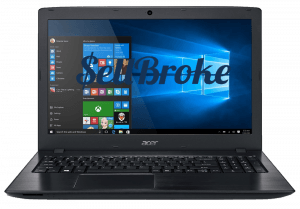 Specs:
You're getting a Skylake base Intel Core i5-6200U, 4GB of RAM, a 15.6" HD display, 1TB of hard drive and a front facing 720p HD webcam for a retail price of $359.99 USD.
In terms of expandability is very easy to upgrade your notebook. Simply remove the three screws and lift off the plate and BANG! You're inside, simple as that. You have access to your hard drive the two sodium DIMM slots. The base 1TB hard drive is slow; however, there is also an M.2 slot here to increase overall performance. Read speeds are only 108.9 MB/s and write speeds clocked at 113.0 MB/s.
Design and Build Quality:
The exterior looks pretty slick especially at this kind of price range. Yes, it is made out of plastic but it has this brush metal finish that makes it look not so cheap. The base is made out of aluminum and it looks almost like a high-end laptop. The weight of this laptop comes in a 4.92 pounds and at its thickest point measures 1.19". The Acer laptops are actually pretty good. There is minimal flex on the top lid and very little keyboard flex.
Connectivity:
This laptop is loaded with ports, on the left there is a Kensington Security Lock Slot, an exhaust port for the fan, a USB type-C, RJ45 Ethernet port, a VGA port, a full-size HDMI, and two USB 3.0 ports. On the other side we have the headset/microphone jack combo, USB 2.0, a DVD drive and lastly the charging port. Located in the front of the machine is the SD card reader and the power status LED indicators.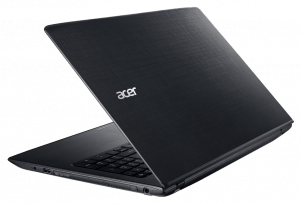 Performance: CPU and GPU:
The performance from this Dual Core chip is top-notch. Equipped with the Skylake base Intel Core i5-6200U which offers great performance. With this Acer E5 you're getting the Intel HD graphics 520. You can expect to play games like Counter-Strike: Global Offensive on medium settings at 1366 x 768p and get a frames per second average of 40-55.
The fan noise levels are very efficient. During light to medium usage you may not hear it running at all. In fact, the 1TB traditional hard drive is actually louder than the fan.
The downsides to this laptop is the amount of bloatware installed. Luckily you can remove them one by one or use a program like CCleaner and remove them automatically.
Display:
This laptop is sporting the 15.6" glossy TN panel with the 1366 x 768p. The color accuracy is poor just like most budget laptops. The sRGB coverage came in at 57% and the Adobe RGB scored at 42%.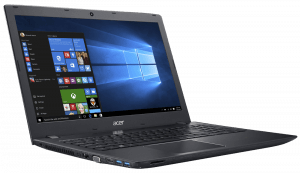 Keyboard and Trackpad:
Acer provides a full-sized keyboard with a 10-key numeric keypad which will give the number crunchers something to praise. Key travel seemed pretty decent and overall the tactile feedback was nice as well. Best of all this laptop has a backlit keyboard, which is always a handy feature that we love to see, and also kind of rare at this price point.
Next up is trackpad performance that features a large trackpad just like the ones featured in flagship laptops like the MacBook Pro. Tracking, two-finger scrolling and multi-gestures were responsive and accurate.
Battery:
With this laptop you are getting a 4-cell battery pack that yields about 4-5 hours with medium to light usage. Light usage is browsing the web, word processing and streaming online movies from Netflix.
Audio:
The speakers in this laptop are two-bottom facing speakers and their sound quality is excellent. There is hardly distortion and the only con here is if you're using this laptop on your lap you need to position the speakers so they can be heard.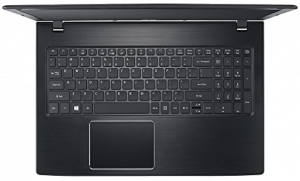 It's time to sell your laptop. Sell Broke offers cash and convenient way to sell computers and other electronics.