Is one of the best gaming laptops actually an HP Pavilion Image Pad 15t? Let's take a look. This notebook gets the latest processors as well as an all-new design. Breaking down the main specs the HP sports an Intel Core i5 that runs at 6300HQ, 8GB of DDR4, 15.6-inch Full HD IPS and a NVIDIA GTX 950M. This HP retails for $849.00 US; however, HP is running some super deals and providing that you can catch it on sale, you can buy this laptop for as little as $599.99 US.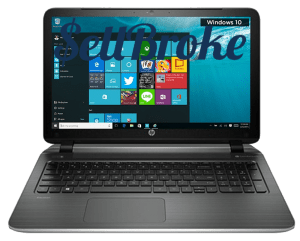 Design:
The design is pretty basic with the silver plastic finish and the HP logo on top. It weighs in at 4.1 pounds and at its thickest point is measures at 0.96-inches. The bottom panel as well is made of all plastic and can be removed pretty easily for future upgrades. The interior is super slick looking with its two-tone finish. You have the silver keyboard mounted within the black base with some silver accent stripes that run across the bottom third of the palm rest. The overall build of the HP Pavilion is pretty solid without much flex on the top or the keyboard. The hinges are pretty stiff, but you can expect these to loosen up over some time.
Ports:
Taking a quick look on the left side of the laptop expect to find the Kensington Security Lock Slot, a USB 2.0 and 3.0 port as well as the headset jack combo. Flipping it around to the right side you will find a SD card reader, USB 3.0, a full size HDMI, a RJ45 Ethernet port and lastly your charging port.
Display:
There are four variations of this display to choose from: the base model 1080p, the 1080p Touch, a 4k IPS option for $150, and for $220 more you can have the 4k Touch. The base 1080p panel is pretty basic. The color is poor, but if you want a good display you can opt for the 4k non-touch display. The Spyder4pro results come in at 64% for sRGB and 48% for the Adobe RGB. Thanks to the IPS panel HP provides a wide viewing angle. HP really considered everyone's viewing angles b providing all the options as an IPS based panel.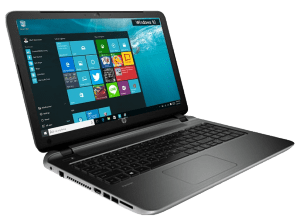 Internal:
This HP Pavilion 15t is boasting the latest Intel Skylake processors and the base model features an Intel Core i5 at 6300HQ, this is a Quad-Core processor that knows how to get the job done. The base model can be built for the gamers out there with a base 950M, but if you want more horsepower you can step up to the 960M. That being said, many of today's games are playable on medium settings at 1920 x 1080p which will yield an average of 45-55 frames per second. Of course with the 960M you can play with the high settings with the same results. The 950M will crush lighter duty games on high settings (1920 x 1080p) that run at about 100-120 fps. Even after about 45 minutes of gameplay you can expect your exterior temps to be pretty low. On the right side of the laptop you should expect an average of 40-45 degrees Celsius and the WASD keys are pretty cool at 35 degrees Celsius.
Keyboard:
This laptop features a standard full-size keyboard with a 10-key numeric keypad. Key travel is adequate and the tactile feedback is good. The new 2016 HP Pavilion 15t does feature a backlit keyboard, but it only has an on or off option, sadly, it does not feature multiple brightnesses. The trackpad is spacious but some may prefer a little smoother feel, but its function of two-finger scrolling and tracking is on point. Overall the experience of its performance is gratifying.
Battery, hardware and speakers:
With light usage and medium screen brightness you can easily expect around 4 – 5 hours out of this 3 cell, 61.5 watt hour battery pack. Our new HP also boasts a wide vision HD webcam that comes in at 720p. The 2TB drive is a little slow but the good news here is it runs at 7200RPM instead of the standard 5400RPM. For better performance you can step up to the 256GB PCIE SSD. This notebook is upgradable and once inside you have access to the 2.5-inch hard drive m.2 SSD and the 2 sodimm slots for the RAM. Our HP Imagepad features to top-facing Bang and Olufsen drivers that produce decent sound but really lack the bass tones, especially since it doesn't have a subwoofer.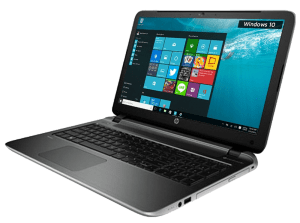 This notebook gives you a great bang for your buck at $599.99, but when you step it up to a Core i7 and 960M you basically now have a HP Omen laptop for only $789.00 US. Arguably you now have one of the best gaming laptops available at a much smaller cost to your pocketbook.
Going to order one when they're released? We'll buy your laptop, tablet, or smartphone and help you get some money to put towards the new one! Get a quote right here on our site.