Let's take a few minutes and briefly look over some of the specs for the Asus K501UX-AH71 laptop. When considering the price of the Asus, at about $750.00USD, you really do get a pretty good performing machine. The reason the performance so is good is because it comes right out of the box with a brand new 6th Generation Intel Core i7 processor, 8GB of RAM, 256GB SSD, and for video it rocks the NVIDIA GTX 950M graphics card. The 256GB SSD really comes in handy because it is able to load tasks really quickly.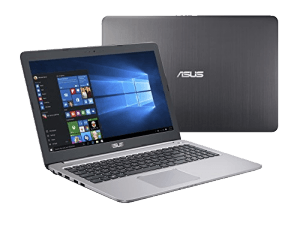 The chassis and body of the Asus is almost all aluminum so it's nice a sturdy and doesn't feel like a cheap plastic budgeted computer, the only plastic part is the underneath plate and of course the keys of the keyboard. The full-sized keyboard is backlit, which is pretty common today in most laptops and it also has a 10-key input pad.
The 1920 x 1080p, 15.6-inch Matte FHD display is proving to be worth its value this time around, since the earlier version of this laptop came up pretty short in most bench tests. Asus apparently took in the constructive criticisms and put their collective heads together to remedy the problems. However, it seems that they won't have to deal with a bad reputation this time around. Everything looks crisp and clear with a full color band when at full brightness. Photos look good for editing and word processing is nice and clear so avoid those headaches from the fuzzier displays out there. Obviously when unplugged the screen dims a bit, but even still it keeps its nice clear colors. When opening the lid you will need to use both hands because it is definitely pretty rigid and stiff.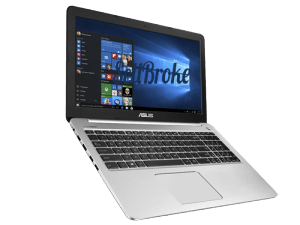 The speakers in this unit are located on the underneath side of the laptop which really makes you question why. Because they are on the bottom the sound tends to be a bit echoey and tinny at times. Also, the speakers are a bit smaller than what's generally found in laptops of this price range, but as I always say, it's better to be hooked up to external speakers with any laptop in order to achieve their real full-range of sounds and abilities.
The preloaded software that comes on the device is what's to be expected. It comes with a bit of bloatware from Asus and also a few things from Microsoft that comes with Windows 10, as normal it offers a third party antivirus software too. The nice thing though is that it's really easy to uninstall and doesn't seem to impact the overall performance of the machine. One thing that you must do when setting up this laptop is, you have to override the preset weekly defrag in order to avoid unneeded writes to your SSD thus limiting its life span. This is a must to correct during your set up process. Once that is taken care of the machine opens and fires up within 10 seconds of depressing the power button. Once started programs take about 3 seconds to open on average.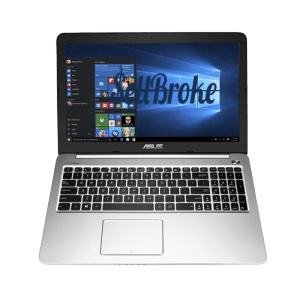 The battery life is pretty good for a full featured laptop. If you keep your screen settings low, such as the brightness of the screen and such, you will significantly extend the battery life if you're just word processing, using the onboard graphics processor or simply surfing the web, you'll find that the battery is pretty dang efficient. In fact, with those low settings you can expect your battery to live about 8 hours, and if you're in airplane mode you can stretch that time out even further and closer to 10 hours. Also, worth noting that when the settings are low there's almost no heat generated thus keeping your machine safe and mitigates the usage of the cooling fans, which again lengthens your battery life. Even when under a full low the graphics card remains cool and rarely turns on the cooling fans.
The trackpad is pretty standard that is found on most laptops these days. It has a sleek embedded look and the left/right click responds well and is only identified with a small 1 cm vertical line on the bottom of the pad. It's located well and with typing you don't get too many keystroke errors because your wrist threw your cursor to the other side of your document. It's responsive to touch and has very few navigational issues, if any. More than likely the ones that occurred were probably operator error induced.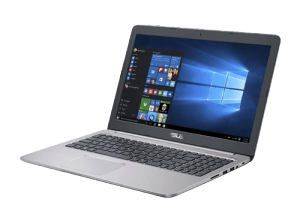 Like every machine out there a few oddities are to be expected, but once you get used them, such as a shallow keystroke, a tight fitted 10-key pad, things run generally very smoothly with this Asus K501UX-AH71. When factoring in the price range, it is an overall computer for what you get and it seems to handle almost everything you throw its way with little to no issues at all. So once you decide to sell your laptop and get into a new machine, take a few minutes and see if the Asus K501UX is for you.
Drayton J. Talbot
Going to buy the new Asus laptop? We pay cash for used laptops, tablets, or smartphones and help you gather funds to purchase the new one! Get a quote right here on our site.