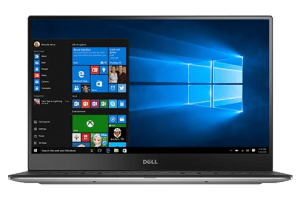 You have just registered in school for the new semester, you got our books and lab fees paid for and now you need to upgrade your computer. After you sell your laptop back for a bit of extra cash you hit the market looking for your next machine to get you through the next couple of years. The world of computers is a vast one, that's for sure, no one is going to deny that. If you're looking for a budget but nice piece of equipment there is no going wrong really with checking out the Dell XPS 13. The Dell's small and compact chassis; great keyboard and touchpad; bright colorful display; strong performance and long battery life should certainly gain your attention.
For as little as $799 (to $1,399) you can get one of the best laptops that Dell has to offer with the Dell XPS 13. As mentioned earlier the screen is now brighter. It has a new USB-C port with Thunderbolt 3 and a choice of Intel's latest 6th-generation Core Series CPUs, all coupled with a longer standing battery life. Everything that you liked before in the previous model like the sleek looking and feeling aluminum and carbon-fiber body. Optional quad-HD infinity display and comfortable backlit keyboard are all still present in the new XPS 13. One thing that seems a bit out of place is the location of the webcam being tucked on the bottom left-hand corner.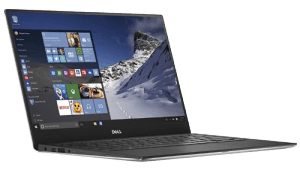 Straight out of the box you're rocking Windows 10 Home, a 2.3GHz Intel Core i5-6200U with 8GB of Ram and 128GB of hard drive. Indicative to the name, the screen display size is 13.3-inches with a maximum resolution of 1920 x 1080p. While it doesn't have an optical drive it does have an Intel ® HD Graphics 5500 card and a video memory of 256MB. And connectivity with 802.11a/c Wi-Fi and Bluetooth 4.1.
Navigating the internet is made easy when using its 4.1 x 2.3-inch touchpad. It responds very accurately and quickly with multifinger gestures. And the mouse movement is nice and smooth with its two-finger scrolling and pinch-to-zoom capability. On some other brands the mouse click is atrocious. But the Dell XPS 13 keeps up with the higher models when delivering its snappy click every time you press down. The keyboard is a delight as well with its 1.2mm of travel and has great spring back from the bottom of the stroke.
The XPS 13's 13.3-inch quad-HD (3200 x 1800) touch screen is a wonderment. It has seriously wide viewing angles and better brightness and color than the non-touch full-HD notebook version. When featured side-by-side with the non-touch XPS 13, the quad-HD model offered brighter and more saturated colors. The non-touch on the other hand gleaned less glare. It's also nice to know that when measured, the XPS 13 covered 103.6% of the sRGB spectrum.
One drawback about the Dell XPS 13 is the amount of heat that it emits after about 15-20 minutes of video playback. It registered at 112 degrees Fahrenheit, which is 17 degrees above the normal threshold. However the non-touch was much cooler and never pegged above 98.5F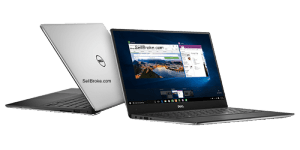 When it's all said and done, the Dell XPS 13 still is the best-in-class PC. The chassis is smaller than the competition's, the keyboard, touchpad and CPU all give strong and steady performances. Between the touchscreen and non-touchscreen versions the touch delivers more colorful and vibrant colors. Additionally it last about 4 hours on a single complete charge. If you're seeking an awesome display, looks, performance, comfort and portability it'll be hard to beat the Dell XPS 13.