The overall look of this machine is great. Whether you have the grey or black model it looks sleek and trim with the grey palm rest assembly offset with the black keyboard makes it look higher priced than the tag actually goes for. This machine is filled with the Ultrabook Intel Core i7 4510U (2.00 GHz) 128 GB SSD Intel HD Graphics 520 Shared memory card and runs on Windows 8.1 from the box but is easily upgraded to Windows 10.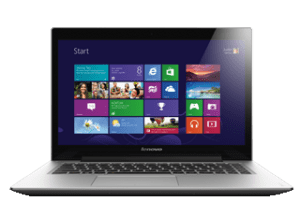 The Lenovo line seems to be a valid replacement, after selling your laptop, for the pricier product out there these days. Though the Lenovo brand doesn't sound as fancy as others, once you begin to research the parameters, it's hard not to consider this line as a decent alternative to the more pricey brands. The Lenovo Flex 2 is pretty thin and affordable. The 360° degree flip touch screen is perfect for the on-the-go entertainment and productivity, not only does it make for a good conversation piece it's looks remarkably cool. When in normal work mode and applications simply use it as a laptop, but when the time comes to use it as a media device or a chat system you can simply turn back the screen and use the very responsive touch screen.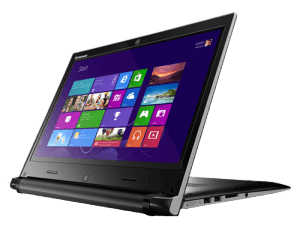 While the Lenovo Energy Manager is said to protect the long-term durability of the battery and uses advanced energy-saving technology to increase the time spent between charges, the common day user will probably not find this to be a true test of the facts. The battery life is poor. It holds a charge for about 2.5 hours if you're using the internet over a WiFi connection. And much shorter if you're charging a phone or camera battery externally. One way around this low battery life cycle is to turn down the screen to only 50%. However, the brightness dramatically drops off and becomes very difficult to comfortably see.
Another issue that's worth mentioning is the trackpad. It's not as responsive as other brands and the differentiation between the left and right click doesn't seem to be consistently in the same place so you may want to consider having a wireless mouse to better navigate your machine. The Lenovo Flex 2 also doesn't come equipped with an optic reader. So if you are one that likes to watch your CD collection, you'll have to invest in an external.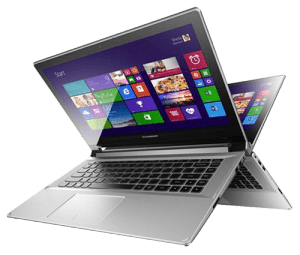 The touch screen display is fairly accurate for most everything we tried. One complaint that was pretty consistent was that while watching videos and movies when the screen was dark there seemed to be a lot of whitewash coming from each of the four corners. Though not a deal breaker, it certainly was annoying.
Whether you are looking to replace a broken laptop, or you are just in the market for a new one, always consider selling your old and used laptop to help prevent it from being tossed into a landfill and depositing many heavy minerals and polluting our Earth.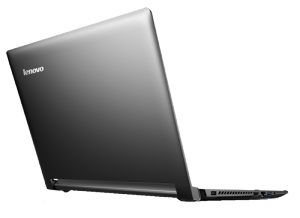 Specs:
Screen Size – 14.6 inches
Max Resolution – 1920 x 1080
Processor – Intel Core i7-4510U
Processor Speed – 2.0GHz -2.6GHz Intel Core i7
RAM – 4 GB DDR3
Hard Drive – 128GB Flash Memory Solid State
Wireless Type – 802.11bgn
Number of 2.0 USB Ports – 2
Number of 3.0 USB Ports – 1
Battery Life – upto 6 hours
Operating System –  Windows 8
Weight – 4.9 pounds
Product Dimensions – 10.9 x 1.1 x15 inches
Processor Count – 1
Flash Memory Size – 8
Hard Drive Speed – 5400 RPM
Battery – 1 Lithium Ion
Going to order one when they're released? We'll buy your laptop, tablet, or smartphone and help you get some money to put towards the new one! Get a quote from Sell Broke and sell your laptop online.