Thinnest Chromebook Ever: Asus Chromebook Flip C436
Jun 09, 2020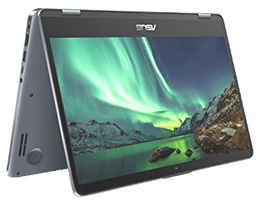 The Asus Chromebook C434 that came out last year was already the best convertible Chromebook available on the market in terms of build and specifications for its price point. Therefore, there was very little that Asus could do to make the new  Chromebook flip C436 better than its predecessor. The major change however, is its thinness and lightweight design that allows Asus claim that it is the thinnest and lightest 14-inch Chromebook available on the market. This is therefore, something that is worth mentioning as this means it has even thinner bezels around its screens and that is just something we can never get enough of.
Specifications
In terms of specifications, not much has changed from the previous model, however, the CPU gets an upgrade 10th Intel.
CPU: 10th generation Intel Processor. Mostly the Intel M series. However, Asus promises that it will switch to the more powerful Intel Core i7 soon.
Memory: up to 16GB of RAM.
Storage: 512GB SSD drive.
Connectivity: Bluetooth 5.0 and Wi-Fi 6
Ports: 2 USB type-C ports, headset jack, micro SD slot.
Display: Asus four-sided NanoEdge Display @ 1920 X 1080 resolution
Security: Fingerprint reader is integrated into the power button.   
Battery life: 12 hours now (42 watt-hour battery), which is 2 hours longer than the previous model's 10 hours.
Weight: 2.4 pounds.
Dimensions: 12.6 by 8.1 inches length and breadth. 0.5 inches in thickness.  
Conclusion
The lightweight nature of this device, its brilliant screen and long battery life make the Asus Chromebook flip C436 a one of the best selling laptops for students and business people always on the move. It is also impressive that it has a 360-degree hinge system that makes it versatile and still manages to incorporate a fingerprint reader into its power button for accessibility and versatility. The top of the laptop is made of aluminum and painted with Aerogel white to make it appealing to look at and use.
The major downside to the computer might be its keyboard, as it feels very mushy and doesn't give much of a tactile response when pressed. However, this is expected for a laptop of this size and weight.