It's been awhile since we've taken the time to talk about anything other than MacBook laptops. But it's fair that we give credit where credit is due and also to try and give you, our readers, more options to compare against. So, get your yoga mat out and take a second to read about the Lenovo ThinkPad Yoga 15" laptop.
The ThinkPad series of laptops are specifically made for business. They are iconic for minimalist matte black and made with tough materials. The design was originally inspired by a traditional Japanese bento box. The Yoga puts a flip on the ThinkPad design by incorporating a hinge system that not only allows for the screen to fully rotate, but also has a new lift and lock keyboard that lays flat when the screen is folded into a tablet position. The heavy duty hinges are very sturdy and never felt flimsy at all.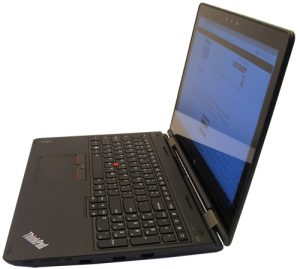 Keyboard and ports
Other than the features I mentioned before, the Yoga is very much like any other ThinkPad. It has a spill resistant and backlit keyboard, the infamous red nub track point. Also a buttonless trackpad and 3.0 USB ports on either side of the machine. Also included is a SD card reader, a mini-HDMI, the volume rocker, a rotation lock for when the Yoga is in tablet mode and of course a pressure sensitive stylus.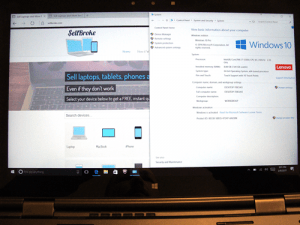 Performance
Inside the magnesium alloy frame of the Yoga is an Intel i7-5500U running at 2.4GHz, 8GB of RAM along with the 120GB SSD. This keeps Windows 10 feeling pretty snappy and responsive.
Battery life was adequate with the battery finally running down at about the 7 hour mark. That's with casual internet usage, video streaming and some light gaming.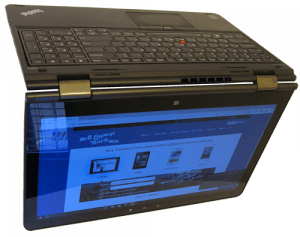 Graphics and display
Graphics are handled by Intel's HD 4400 and it's paired with a 15.6" 1920 x 1080p display. It's a multi touch and in this configuration the Yoga is priced about $1,400 USD.
The Gorilla Glass display works well in tablet mode and allows you to take full advantage of Windows 10 gesture features. The is a matter finish that helps with glare and when using the pen it gives it more of a paperish feel to it. The pen input is very and pressure sensitive due to the Wacom active digitizer.
The speakers that emanate from underneath the keyboard are what you'd expect from an ultrabook. They are OK and in a small room by yourself they are fine. But one thing to note is when using the Yoga in table mode the volume is definitely dampened because the speakers are facing away from you.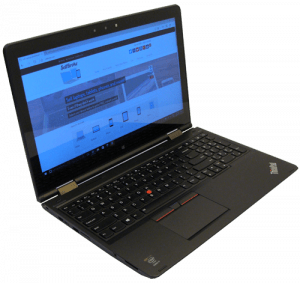 Pros:
The pros for the Yoga is in the name. As a convertible it gives you the flexibility of how you'd like to use the hardware. With the new lift and lock keyboard design the Yoga feels a lot more solid when holding as a tablet. The 10-point multi-touch display is very responsive. It includes a stylus and in our opinion touch is a "must have" when you're trying to use Windows 10. The i7 processor being matched with the SSD makes boot-up less than a few seconds and loading apps a snap.
Cons:
For a ultrabook the Yoga is slightly on the heavy side which when using as a laptop is not noticeable at all, but when using it in tablet mode is way more apparent. The touchpad itself is very good so why would it be listed as a con? By default the Windows 10 gestures are enabled. That on a non-touch screen laptop might be helpful, but on the Yoga which has a great touch screen, the gestures are just too sensitive.
In normal use i found myself accidentally swiping the top which makes typing very frustrating to say the least. — So here's a quick tip: if you want to get rid of that go to Control Panel > Hardware and Sound > Device and Printers, right-click on the Lenovo PC, click the Mouse Properties and under the ThinkPad tab uncheck "enable gestures". This makes getting around on the ThinkPad much, much better.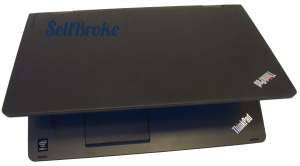 Finally, the last con is price. At $1,400, which by no means is outrageous for this hardware, adds up for an ultrabook that isn't quite great as a laptop or as a tablet. In the end the Yoga is a compromise; a very good compromise, but like most things in life being a jack-of-all-trades means you're a master-of-none.
Whether you seek an advice on buying a new laptop or want to sell used laptop back we got you covered. Check out our ever growing laptop review selection as well as computer recycling programs.